Bedoya Hotel
Hotel San Glorio
Bedoya Hotel is located in Santander city centre. It is very close from the train and bus stations, the fishing port, the Santander-Plymouth Ferry Terminal and the promenade. It is also close from the commercial area of the city and less than 2km away from El Sardinero, El Camello and La Magdalena beaches, which makes it ideal to know the city by foot.

The collaborations between the establishments are such, that they share reception service (Federico Vial nº3), cafés and the restaurant.

The opening of Hotel Bedoya has meant a substantial improvement in the offers performance of the hotels San Glorio and Bedoya. After a hard work of refurbishment in this space we have achieved to create a place that highlights because of the space, a care decoration and a very relaxed environment.

The kitchen of Restaurant Bedoya shows an inclination towards nibbles and snacks, which is more attractive in the summer time. Nevertheless, they do not forget about the spoon dishes and the traditional food. There available the menu of the day and the a la carte menu. You can enjoy delicious salads freshly made and homemade desserts, as well as fresh meats and fish. A wide offer that includes all tastes and is complete with the take away food on demand service.

Hotel San Glorio and Hotel Bedoya have an experienced and professional staff that backs up the good work of the company. A team that knows how to earn the trust of occasional and regular guests. After twenty years located in this neighbourhood, we are experienced on caring and attracting guests to our facilities.

We are constantly looking to please our guest with an excellent service. Our rooms provide the relax and comfort you are seeking, because we aim to be a reference point in Santander's hospitality.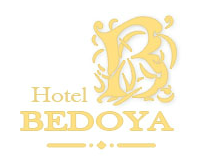 ADDRESS: Federico Vial 8 and 3 - 39009 Santander
PHONE: +34 942 22 16 66
FAX: +34 942 31 21 09
EMAIL: info@hotelsanglorio.com